Users Are Voters: Strategies To Help Your Politicians "Get It"
Robin Carnahan, the former Missouri Secretary of State and now Head of State and Local Government at 18F, has seen the issues around IT systems procurement from both sides, through her work in government and her work in the private sector as an entrepreneur. "There was nothing that I did while I was in office that made me lose more sleep than the roll out of some technology platform." And, understandably since, as she pointed out in her talk at the 2016 Code for America Summit, 94 percent of IT projects over $10M fail.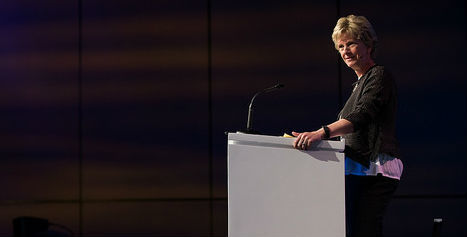 Robin Carnahan speaking at the 2016 Code for America Summit

Public failures, like the 2013 rollout of Healthcare.gov, helped show everyone why we need to do things better, and suffice to say, a lot has changed in the three years since that happened. Digital teams have popped up all across the country, spurred in part by the creation of 18F and USDS, and we have seen governments like the State of California move adopt a user-centered and iterative approach to services, including procuring a new child welfare system.

In her talk, she flips the statement made by Tom Loosemore in a talk from the day before. Whereas Tom says "in order to have a successful digital transformation project, you need to find the right politician," Carnahan counters that "in order to be a successful politician today, you need to find the right technology." Because, as Carnahan put it, today public officials are "not just judged on how quickly the snow gets plowed, they're going to be judged by whether the damn website works."
Carnahan recommends a couple of strategies for helping officials "get it" when it comes to employing new technology tools.
Frame the problem in terms that they care about
"Users are voters," Carnahan says, and elected officials care about what their constituencies care about. By building the technical expertise within government and bringing technologists to the table, the potential result is better government that deploys all the technological advances of this modern age to serve people better.
Use budget constraints to your benefit
"Use that tight budget that you are dealing with to your benefit," Carnahan says. Seeing limited budget as an opportunity to be creative and drive change, rather than as a blocker, is key to digital transformation. For example, you could encourage the use of open source tools and reuse of others' work. For ideas on where to get started look to the Boston.gov website, who made their source code open source in 2016, to the 18F vendor pool that has now been reused by many other governments, or to analytics.usa.gov that has been reused by a host of other government websites.
"People would sometimes say to me, 'Robin, you're impatient…," said Carnahan during her Summit talk. "But maybe that impatience is one of your superpowers because you like to get stuff done.'"
Why is it good to be impatient? Because delivering government services like healthcare and child welfare services to people who need them most just can't wait.
This story is based on a presentation delivered at the 2016 Code for America Summit in Oakland, California. You can view the whole video of Robin Carnahan's presentation here.