What is Brigade Congress?
Join us for the third annual Code for America Brigade Congress where we'll convene civic tech enthusiasts from across our Network. At the event, you'll connect with Brigade Network volunteers, government and community partners, as well as civic tech professionals from across the country. Together, we'll learn the skills we need to level-up our work in the civic tech ecosystem and our local communities.
With a packed agenda filled with training sessions, free-form unconference sessions, and lightning talks, attendees will share their vision of what's next for our national Brigade Network.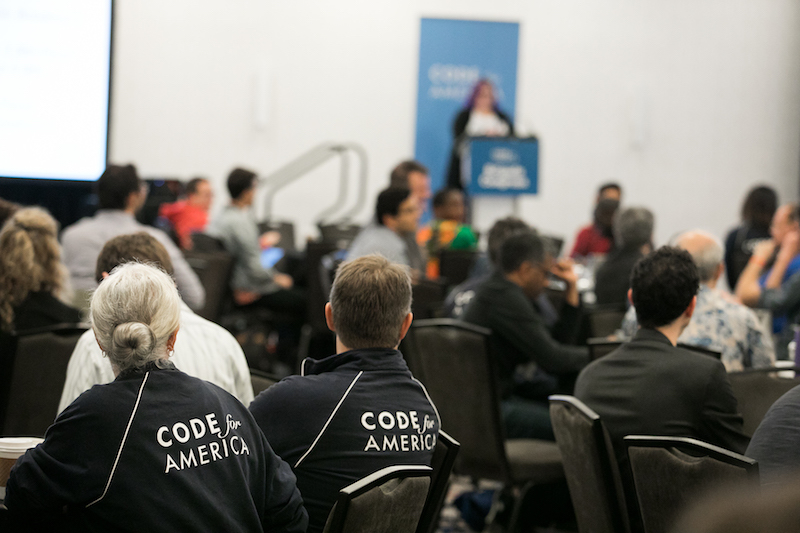 Come ready to share stories from your Brigade on what has worked, what hasn't, and how we can apply those lessons to future wins. We'll tackle how to prevent burnout, solve difficult problems, and build your Brigade into a community engagement powerhouse. But beyond that, we'll talk about our shared values and how Brigades across the country are working for change.
April Urban, MSSA from Case Western Reserve University, is a research associate with a passion for building Cleveland's capacity to use data to solve civic problems. April oversees the Poverty Center's NEOCANDO data tools, aids in research and community consultation on projects related to the built environment, and often works with community groups seeking the Poverty Center's help in using community indicators in their work. She is the Poverty Center's liaison to the National Neighborhood Indicators Partnership at the Urban Institute and served on the Executive Committee from 2016-2018. She is the co-creator and co-lead organizer of Data Days CLE, and is a part of the Cleveland Civic Tech and Open Data Collaborative
Ariana Waller was born and raised in Atlanta, Georgia. She has an educational background in Electrical Engineering and software development. After deciding that entrepreneurship was the best path for her success, Ariana moved from Tuskegee, Alabama to where she now resides in Grand Rapids, Michigan with her husband, Omar Waller. Wanting to continue her education, Ariana jump-started her tech career in software development by joining one of Michigan's leading coding boot camps, Grand Circus, in which she became fluent in C-Sharp. In 2018, Ariana Waller launched Adoraa Company, an innovative cosmetics brand that's developed a method to up-cycle pre-owned cosmetics, saving beauty consumers on average more than 50% off high-end cosmetic products. Ariana is also CTO and co-founder of Dalilah Cann. An all-female tech team, developing Michigan's first Amazon-style, digital marketplace and delivery service that connects consumers to local cannabis products.
Ariana is passionate about social justice and ensuring that black and brown communities have access to resources. She is the co-founder of the Black and Brown Cannabis Guild, an organization that focuses on advocacy, networking, and guidance for communities of color in the cannabis industry. Ariana is the founder of the global podcast, Women in TECH with Ariana. In less than a year, Ariana launched her podcast, was named one of the top podcasts for women in tech and entrepreneurship by Medium, has over 2,000 consistent listeners, representing 8 countries.
Jennifer Pahlka is the founder and executive director of Code for America. She served as the U.S. Deputy Chief Technology Officer in the White House Office of Science and Technology Policy from 2013–2014, where she architected and helped found the United States Digital Service. She currently serves on the Defense Innovation Board in her personal capacity. She is known for her TED talk, Coding a Better Government, and is the recipient of several awards, including the National Democratic Institute's Democracy Award and being named by Wired as one of the 25 people who has most shaped the past 25 years. She previously ran the Game Developers Conference, Game Developer magazine, Gamasutra.com, and the Independent Games Festival, followed by the Web 2.0 and Gov 2.0 events. She is a graduate of Yale University and lives in Oakland, California with her daughter, husband, and seven chickens.
Friday, October 18
---
12:00 p.m. - 1:00 p.m.
Registration
Lunch will be provided.
---
1:00 p.m. - 1:30 p.m.
Welcome & Unconference Pitching
---
1:30 p.m. - 2:00 p.m.
Mainstage
Keynote from April Urban.
---
2:00 p.m. - 2:15 p.m.
Break
---
2:15 p.m. - 3:30 p.m.
Breakout Session 1
View Sessions
---
3:30 p.m. - 4:00 p.m.
Break
---
4:00 p.m. - 5:15 p.m.
Breakout Session 2
View Sessions
---
5:15 p.m. - 5:30 p.m.
Wrap Up
---
5:30 p.m. - 7:00 p.m.
Dinner
Consult this guide to Cleveland created by OpenCleveland and Code for America.
---
7:00 p.m. - 9:00 p.m.
Reception & Bowling (Snacks and beverages provided)
The Corner Alley
402 Euclid Ave, Cleveland, OH 44114
Saturday, October 19
---
8:30 a.m. - 9:00 a.m.
Breakfast
---
9:00 a.m. - 10:45 a.m.
Mainstage
Includes Fellowship Panel, Keynote from Jen, and Lightning Talks
---
10:45 a.m. - 11:15 a.m.
Break
---
11:15 a.m. - 12:30 p.m.
Breakout Session 3
View Sessions
---
12:30 p.m. - 2:00 p.m
Lunch
---
2:00 p.m. - 2:30 p.m.
Group Picture
---
2:30 p.m. - 3:45 p.m.
Breakout Session 4
View Sessions
---
3:45 p.m. - 4:15 p.m.
Break
---
4:15 p.m. - 5:30 p.m.
Breakout Session 5
View Sessions
---
5:30 p.m. - 5:45 p.m.
Wrap Up
Sunday, October 20
---
8:30 a.m. - 9:00 a.m.
Breakfast
---
9:00 a.m. - 9:45 a.m.
Mainstage
Keynote from Ariana Waller.
---
9:45 a.m. - 10:00 a.m.
Break
---
10:00 a.m. - 11:30 a.m.
Breakout Session 6
View Sessions
---
11:30 a.m. - 12:00 p.m.
Mingle and Goodbyes
Breakout Session 1
Friday, 2:15 p.m. – 3:30 p.m.


Breakout Session 2
Friday, 4:00 p.m. – 5:15 p.m.


Breakout Session 3
Saturday, 11:15 a.m. – 12:30 p.m.


Breakout Session 4
Saturday, 2:30pm – 3:45pm


Breakout Session 5
Saturday, 4:15 p.m. – 5:30 p.m.


Breakout Session 6
Sunday, 10:00 a.m. – 11:30 a.m.