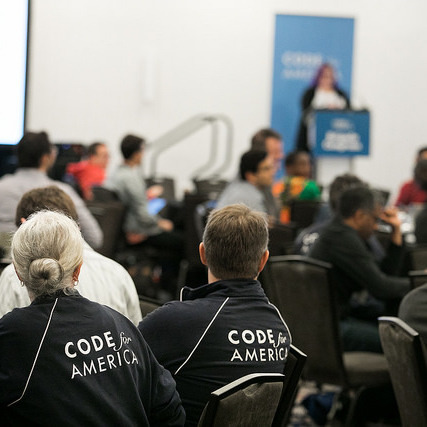 Code for America and the National Advisory Council proudly invite you to
The 2nd Annual Brigade Congress.
October 19–21, 2018
Kimpton Tryon Park Hotel (Charlotte, NC)
When we come together, we can build a government that works for the people, by the people, in the digital age.
What is Brigade Congress?
Brigade Congress is the primary in-person meeting centered on the Code for America Network–Brigade leaders, government and community partners, and civic tech professionals. Together, we'll learn the skills we need to level-up our civic hacking communities.
Attendees will share their vision of what's next for our movement during a packed agenda of:
planned training sessions
free-form unconference sessions

lightning talks
Come ready to share your stories on what has worked, what hasn't, and how we can apply to those lessons to future wins. We'll tackle how to prevent burnout, how to solve difficult problems, and how to overcome the problems you're facing on the ground. But beyond that, we'll talk about our shared values and share how Brigades across the country are working for change.
More information will be posted closer to the event.
Friday, October 19th
Saturday, October 20th
Sunday, October 21st
To make Brigade Congress as inclusive an event as possible, Code for America is happy to be able to offer monetary assistance to defray the costs of travel and lodging. Travel support is granted on a first-come, first-served basis.
Please read the travel reimbursement guidelines before making travel arrangements or applying for travel support.
Brigade Congress is hosted with the generous support of: